BOTOX® Cosmetic and Restylane® Can Enhance Your Cosmetic Dentistry Results
Dr. Abbey J. Lee provides BOTOX® Cosmetic and Restylane® injections as an added benefit when receiving routine dental care at Smiles 4 Grant Park in Atlanta, GA. These facial esthetic treatments are a remarkable complement to cosmetic dentistry and can significantly reduce the signs of aging around your mouth, nose, and eyes, as well as improve facial contours where loss of volume has occurred. Dr. Lee has been helping patients achieve the smile of their dreams for over 25 years and is now proud to provide these safe and simple injectable treatments as a means to enhancing overall results.
What is BOTOX® Cosmetic?
BOTOX® Cosmetic is a prescription medication injected directly into the facial muscles on the forehead, in between the eyes, and around the eyes, mouth, and base of the nose to temporarily minimize moderate to severe lines and wrinkles. It contains botulinum toxin type A, a safe and effective material designed to block nerve impulses within the facial muscles known to cause repeated contractions and creases. This procedure is best suited for patients with fine lines and wrinkles in the upper portion of the face, such as:
Forehead lines
Wrinkles between the brows
Crow's feet (around the eyes)
Smile lines
Because BOTOX® Cosmetic is designed to relax muscles, dentists have also seen improvements in patients with TMJ disorder and bruxism (teeth clenching and jaw pain) when injected into the surrounding jaw muscles. As the leading cosmetic treatment in the United States, this minimally invasive treatment can be administered in just 15 minutes and provide a 97% satisfaction rate. Patients can enjoy results anywhere from three to four months before retreatment is necessary.
What is Restylane®?
Restylane is a type of dermal filler made from hyaluronic acid, a natural occurring substance found in the body. Compared to BOTOX® Cosmetic, this treatment is injected into the underlying tissues below the skin to add volume and smooth facial contours. This safe and biocompatible material binds with the water inside the body to plump thin lips and fill out wrinkles and deep facial folds.
This cosmetic treatment is recommended for patients with problem areas on the lower portion of the face, such as:
Thin or misshaped lips
Perioral lines ("lipstick lines")
Nasolabial facial folds ("smile lines")
Hollow cheeks
Restylane can be administered in less than 30 minutes and provides results that last anywhere from six to 18 months.
What to Expect During Your Consultation
During your consultation, Dr. Lee will discuss your cosmetic goals in order to customize your BOTOX® Cosmetic or Restylane® treatment to meet your aesthetic desires. She will carefully explain the benefits to both to help you choose which treatment is best suited for your needs. For your convenience, she can combine your facial esthetic treatment with your complete smile makeover, or provide it during a routine checkup.

Before treatment, Dr. Lee will numb the area being treated with a topical anesthetic for optimal comfort. She will then insert a small needle below the surface of your skin to inject the BOTOX® Cosmetic or Restylane® into the appropriate tissues until desired results are achieved.

There is no downtime required for either injectable and you can return to normal activity immediately. You may experience some mild soreness and swelling for the first few days, but it can be easily managed with an over-the-counter pain reliever and cool compress.
Benefits of Facial Esthetic Treatments
After the soreness and swelling subsides, you will be able to enjoy:
Reduced fines lines and wrinkles
Smoother facial contours
Fuller lips
Younger and more attractive appearance
Boost in self-confidence
Immediate, natural-looking results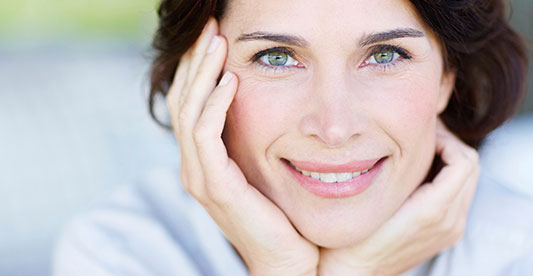 Schedule Your New Patient Exam
If you are interested in enhancing your cosmetic dentistry results with a facial esthetic treatment, contact our dental practice today online or by calling 404.328.7177 to learn more about BOTOX® Cosmetic and Restylane®. During your appointment, Dr. Lee will explain the benefits to both to help you achieve outstanding results.